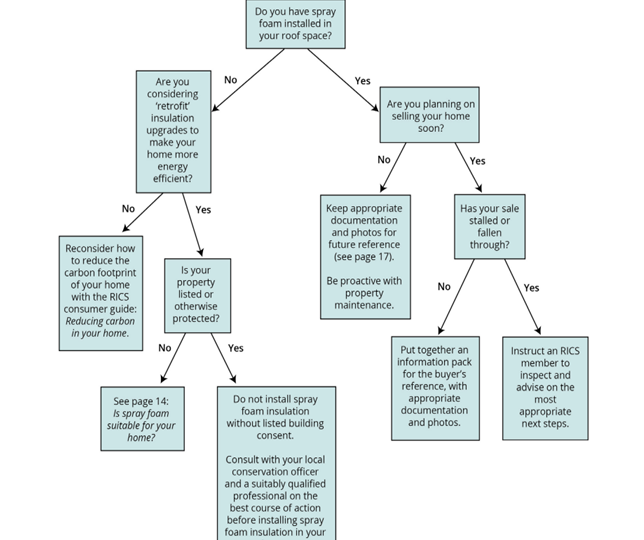 Due to the rising energy bills, many home owners are seeking new ways to improve the energy efficiency of their property. One of these methods, which has been highly debated in the recent times is the use of spray foam insulation.
Spray Polyurethane Foam (SPF) similarly known as spray foam insulation, is used in roof, walls and floor application with the use of a spray gun.
The Royal Institution of Chartered Surveyors (RICS) has recently published an impartial consumer guide on this matter. Further advice is provided in the Royal Institution of Chartered Surveyors Consumer Guide.
If you are considering improving the energy performance of your property, please do not hesitate to contact for independent expert advice.
Risks of using spray foam insulation
Property Value and Saleability Implications: If you are planning to purchase a property which has spray foam insultation, it is imperative that your Legal Adviser requests for all guarantees, warranties, certification, and calculations in this regard to ensure all works were undertaken correctly. If the works were undertaken without the necessary paperwork and permissions, such as Listed Building consents, this may affect the future valuation and/or saleability of the property. Please do not hesitate to contact us for independent Valuation advice.
Future Repairs: In the future, the roof coverings may fail and result in water penetration into the loft space. The spray foam insulation will make it difficult to identify these issues as the damp or decay may be located behind the insulation. This may conceal roof defects long periods of time, which can lead to decay, potentially requiring expensive remedial works in the future. Furthermore, the spray foam insulation will make it more difficult to carry out future repairs as this will require removal to access the roof timbers and/or membrane beneath. Please do not hesitate to contact us for Building Surveys, Specific Defect or Project management advice.
Condensation and Damp: As with all other types of insulation, particular care should be given to ensure the spray foam insulation is suitable and used correctly in conjunction with other building materials. Failure to do so, may restrict ventilation into the roof void and therefore cause future damp or condensation issues to the structural roof timbers. It is imperative to request expert advice from a Chartered Surveyor separately from the installer to ascertain the suitability of this installation for your property. Please do not hesitate to contact us for independent advice.
Statutory implications: Where the property is Listed or protected, prior Listed Building or Conservation Area consents etc will need to be obtained from the local authorities before considering to use spray foam insulation. This can add extra costs and time when consulting with a Conservation Officer and/or the local planning authorities. Please do not hesitate to contact us for independent advice.
Fire Safety: While there are some spray foam insulations products which are specially treated to be fire retardant, the polyurethane insulation is classed as a Class – E combustible material by the British European Standard: BS EN 13501-1. If you already have a spray foam insulation installed or are considering its installation, expert advice should be obtained in this regard to ensure the fire safety of your and adjoining neighbouring properties.
For further guidance on helping you make informed decisions, please see below an extract of the decision-making tree from the RICS Consumer Guide: Spay foam insulation. A clear, impartial guide.
Use the decision tree below to identify your next steps.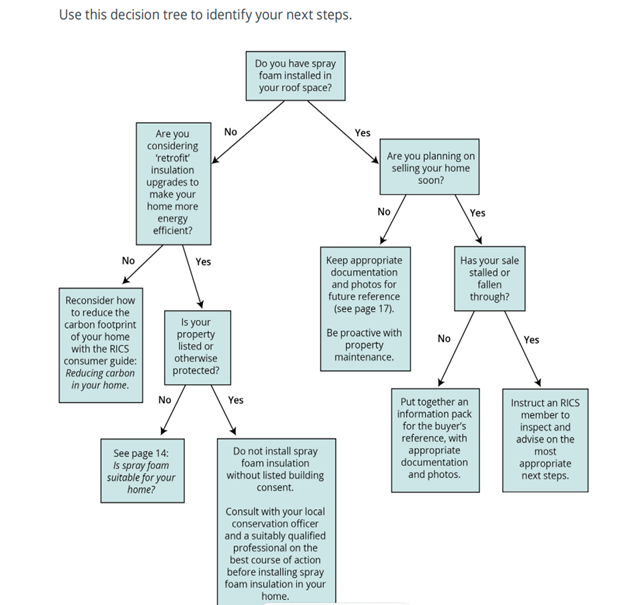 Whether K & A Chartered Surveyors are instructed to undertake a Building Survey, Homebuyers Report or Specific Defect Report, we will inspect the property and provide you with advice in relation to any spray foam insulation we may find. We also offer Project Management services where the removal of spray foam insulation is required and would be happy to assist in this regard. If you require assistance with any of the above then please feel free to contact us.